!!! DIESE SEITE IST IN ÜBERABEITUNG !!!
Danke für Ihr Verstãndnis!




VANITIES - Marilyn Monroe Theater, New York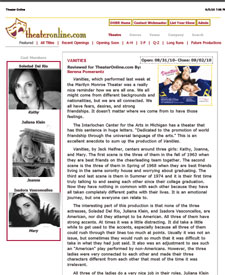 Kritik von Serena Pomerantz
(Theateronline.com) vom 5.9.2010
"All in all, a very strong production of a play every woman who has ever had and lost a friend should know. It is funny and touching, something that more theater today needs."